About The Integrated Self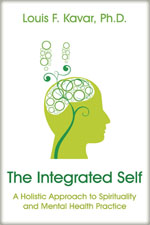 Contemporary research supports the importance of spirituality for mental health. Counselors, social workers, psychologists and other therapists wonder how to include spirituality in treatment.  Mental health training and current treatment models do not equip clinicians to adequately address the topic of spirituality.

The Integrated Self presents a model for identifying and assessing spirituality within the client's own life and experience.  By operationally defining spirituality as a dimension of the client's experience, The Integrated Self explores the role of culture, values, beliefs, and lifestyle for understanding the spiritual dimension of the person.  Using case studies, clinicians learn how to implement the model of the integrated self within their existing theoretical orientation.  The Integrated Self also includes discussions on the approaches for spiritual assessment and ethical issues related incorporating spirituality in mental health treatment.

While other books focus on religious beliefs, spiritual practices, or formulations of a general kind of spirituality, The Integrated Self provides a model for a holistic approach that can be adapted in both mental health and health care settings.


The Integrated Self is available as hardcover, paperback and ebook on Amazon.com, Barnes & Noble or special order from your local bookstores.

Available Now on






Coming Soon
About Lou
The Rev. Louis Kavar, Ph.D., is a faculty member in psychology at Capella University. He is an ordained minister in the United Church of Christ(UCC). Kavar holds a master in spirituality (Duquesne University) and a doctorate in counseling (University of Pittsburgh). He lectures internationally and his publications include Stumbling into Life's Lessons: Reflections on the Spiritual Journey, & The Good Road: The Journey Along a Spiritual Path.
Visit my website for more information about my work in spirituality including a weekly blog, emerging, on the integration of spirituality and daily life.
Organizational Beneficiaries
20% of profits from sale of The Integrated Self during its first year of publication are being used to support the following organizations:
Rape, Abuse and Incest National Network (RAINN)
- in support of victims of sexual abuse

Gay, Lesbian, Straight Education Network (GLSEN)
- in support of their safe schools/anti-bullying project

Home for Our Troops
- in support of handicapped veterans